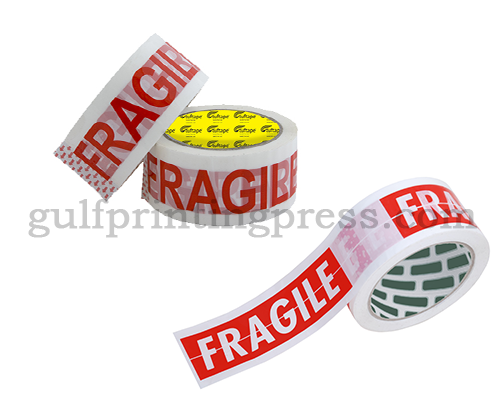 BOPP Packing Tape
Customized Bopp tape printing in UAE
Gulf Printing & Packing solutions provide complete range of printed BOPP tape, packaging tape, Masking tape and other packing self-adhesive tape which is the best options on packaging tapes are increasingly being used for branding & advertising for almost manufacturing industries regardless whether big or small-scale company. A well Designed and printed quality BOPP packing tape can be Used in various business industries, such as food processing company, Logistics, cargo, Apparel & Online Shopping warehouse, FMCG companies, courier, shopping outlet, fashion industry, Tobacco, and Personal Cosmetics companies. the tapes are produced to be meddle proof, provide excellent consistency and adhesive pin, and to reflect attractive visuals for immediate identification with company logo, name or other security check details.
White packing tape
Printed clear packing tape
Paper masking tape printing
Security tape printing
Reflection tape printing
The BOPP (Biaxially Oriented Polypropylene) films which used to make and produce self-adhesive packaging tape, which gives a high stretchy and high strength sealing capacity which are coated with high quality non-toxic polymer dispersion glues along with solid gratified and low gluiness to not damaged packaging boxes in any conditions. A well printed packaging tape gives wonderful marketing and promotional touch as cheaper budget and of course one of the superior qualities of presentation too.
Using ink and material such as:
Superior quality solvent ink
Moisture and heat resistance
Water proof and color safe
Self-adhesive with proper sealing
A brief details of BOPP Packing Tape printing specification:
| | |
| --- | --- |
| Printing colours: | single to multi colours CMYK |
| Material quality: | Clear, Brown, Crystal Clear, & Any Colour of Choice |
| Material Film: | BOPP (Biaxially Oriented Polypropylene) |
| Thickness: | 23, 25 and 27 microns |
| Roll dia : | 7.6 cm |
| Adhesive Deposit: | 22 to 40 |
| Average thickness: | 47, 57 and 60 |
| Using application: | packaging box, carton sealing and box closing |
| Size: | 12mm – 1320mm width |
| Measurement: | 50 meters to 200 meter based on requirements |
| Adhesive: | Acrylic Water-Based (Acrylic Solvent-Based on Request) |
| Shelf Life: | 12 months to 24 months based on storage temperature |
| Durability: | based on usage |
| Packing with: | each cartoon 36 roll |
Bopp packaging tape is multipurpose and used in a variety of packaging needs in various industries, BOPP tapes are among the most widely used in the logistic, cargo, shipping and manufacturing industry to pack and close their products in safer way. Packing tape is best and strong, secure seals and resistance to extreme temperatures in hot and cold.
What is does it mean BOPP packing tape?
As we all known BOPP stands for Biaxially Oriented Polypropylene. BOPP film is stretched flat that can pack or seal cartoon and other packaging box or bag to secure products and goods. The BOPP film is commonly used in a variability of packaging purpose and applications such as, dairy, bakery, snack food packaging and also labelling purpose like juice, water and other bottling needs.

We provide wide range of Packaging tape printing services with single to multi colors printing solutions in UAE where our customer gets sustainable products at really low price and fast delivery too. Our in-house packing tape printing facility provide state of the art quality, fine print impression long lasting and durable material to use your packaging needs. and which used for wide range application and industry is: logistic, cargo, garments industry, food company, security tape printing, cartoon box packing tape, clear tape printing, brown and white color tape print, Duct Tape, 3M tape printing, double sided tape, single face tape, pvc tape, plastic tape, masking tape, paper type tape, shrink tape and many more…
For more information about BOPP packing tape printing or to get free quote please call us now 04 4219696, 050 995 8471, 055 534 3763 or email us now info@saharagulf.com