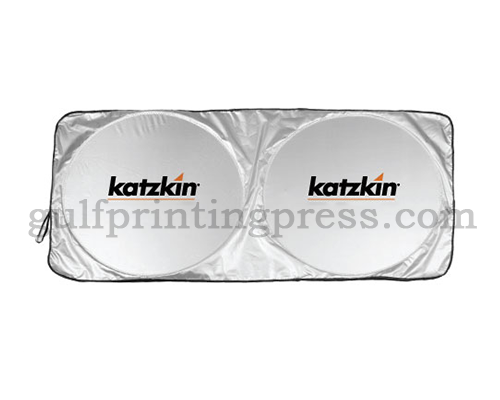 Car sunshade/ windshield printing
Looking for the best ideas to promote your business, company logo or brand identity? We gulf printing press provide wide range of car sunshade printing solutions with variety of quality and multi colours printing services too. Our range promotional and advertising car sunshade material available in stock with various colour, thickness and quality which exceptionally used to promote your company such as spare parts manufacturer and seller, a repair business or a rental company, tours and travel, car showroom and any other business industries can be used to promote your business on the go.
Details of available car sunshade varieties like:
Silver car sunshade
Single color and multi colors logo printed car sunshade
Square shape car sunshade
A well designed and multi colours or single colour logo printed Car Sunshades are mostly used by Companies connected with many business industries. It is really low-price marketing tool and gifting items for our suppliers which stay long lasting and durable too. Car sunshade is not only advertising tool but it can be used for the car dashboard safety and heat resistance which control direct sunlight while park your car and at the same time it is throughout the year for protection from sun and your brand will be visible to many people who will look at it and your ad will run geographically.
Car sunshade printing options available with us is:
Manual and automatic car sunshade silk screen printing
Cut colours printing
Shade pouch can be logo printed
Both circles can be printed
In house production so get factory price
Quality and client satisfaction guaranteed
Despite using many gifts printing for small companies you can use to gifts car sunshades which has got a wide area of market coverage with your advertising with company name and details you can also print your company activities on it to pass the valuable information and messages to your clients in easier way and more effectively. A logo printed car sunshade is good idea to send your promotion to client and distributor to remind your business in every moment they see the ad and it can be distributed to mass public as it comes low-cost marketing gifts.
Car windshield material details are:
Tyvek sun hade
Non-woven shade
Cotton shade
Polyester shade
Custom special car sunshade
Foldable sunshade
Large and x large sunshade folding sunshade
Collapsible car sunshade
Custom car windshield
U shape foldable sunshade
Truck sunshade
Heat resistance folding windshield
Car side sunshade
For more information about car sunshade printing or to place an order or to get free quote please call us now 04 4219696, 050 995 8471, 055 534 3763 or email us now info@saharagulf.com